*Times posted are Pacific Time zone.
May
3
Sun
"What the Soul Suspects" by Mara Purl
"What the Soul Suspects"
National Paranormal Day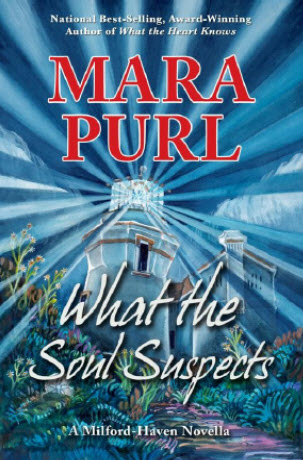 Can a soul hover after passing on? Can a person be unaware of her own death? Journalist Christine Christian had always been a pragmatist. Not even her own persistent intuitions could compete with her commitment to logic and to empirical proof. In fact, that's what had gotten her into to trouble in the first place. Of course, that very quality had also gotten her "the story" time and again, making her an award-winning reporter, a freelancer who'd managed to write her way into a respected series of television reports acclaimed by her peers and watched by millions of dedicated viewers. She always knew it was risky to ignore those pesky "feelings" of her. She ignored them one time too many. Or did she? Is it rally too late to reverse her decision? Can she at least warn others? Come hell or high water—and it looks like she's facing down both—she's still determined to finish her story, even if there's only one person left who can hear what she has to say—investigator Senior Deputy Delmar Johnson. Will he listen? Will he allow his own thinking to exceed the bounds of reality as he's always known it? Will he help Chris prove there's more to life than what meets the eye? Though the story stands alone, it also extends the Milford-Haven Stories, part of the Milford-Haven Saga, the critically acclaimed, best-selling, multiple-award-winning series. Based on Purl's BBC Radio drama Milford-Haven U.S.A.
Oct
11
Sun
Milford-Haven Lighthouse Tea: A 35-year Celebration of the Novels, Radio Drama & Podcast
Oct 11 @ 2:00 pm – 6:00 pm
Milford-Haven Lighthouse Tea
A 35-year Celebration of the Novels, Radio Drama & Podcast
Point San Luis Lighthouse
https://www.portsanluis.com/2167/Lighthouse
Sunday, October 11th, 2020
2:00 – 6:00 pm
Join Mara and her amazing Milford-Haven Team
including Cast Members & Engineer, Artists & Marketers, Followers & Fans
for a fabulous, elegant, tea on a historic lighthouse property!
Stories
Art Display
Elegant Tea
Sunset from the lighthouse