When:
2016-06-29T00:00:00-07:00
2016-06-30T00:00:00-07:00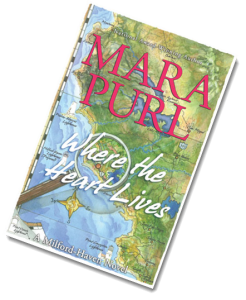 Mara Purl's "Where the Heart Lives" Softcover Debut!
June 29, 2016 – all day
Winner of seven book awards, this book includes so many treasures, you won't want to miss it. "Miranda" travels south from Milford-Haven through my home city, Los Angeles, stopping first at Point Vicente, a historic L.A. lighthouse that's one of the most spectacular points on the coast. Then she goes backstage at the Hollywood Bowl before slipping into her seat to watch a Doobie Brothers Concert. (Yes, the real band members appear, and yes this is based on a real experience of the author's.) Then she heads out to the Mojave to meet jaguars, cheetahs, snow leopards, and a 600-pound tiger! Back in Milford-Haven, Sally O'Mally has an encounter with an old flame that rocks her world, Stacey is in jeopardy from her abusive husband, Samantha is digging into Jack's non-compliance at the Clarke house, and Deputy Del Johnson begins the investigation into the disappearance of journalist Chris Christian, whose body has yet to be discovered in the pounding winter rains. Is there more romance? Or more mystery? Read it and find out . . .