When:
2025-01-25T00:00:00-08:00
2025-01-26T00:00:00-08:00
"With the Clouds Over Miami" by Mara Purl
January 25, 2025
National Florida Day
eBOOK LAUNCH
Join Mara for a 3-day Amazon event
January 25-26-27, 2025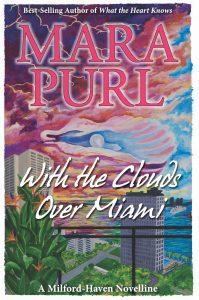 Can a young woman on her first mission take down the cleverly vicious CEO of a family empire?
Can she play her part, manage her team, and guard her heart all at the same time? The unscrupulous greed and amoral plans of the three Pliant brothers are designed to ruin the ecology of one Caribbean country after another. What will it take to stop them? This mission will require two family enterprises against one. It all starts in Florida, with a romantic interlude in gorgeous Biscayne National Park—a significant connection? Or an untimely distraction? Then the action picks up in Miami, where Morgan Jones-Smith and her team assemble to complete their strategies. Then the team and their quarry embark on the spectacular Monarch Cruise Line Ship, sliding through the sparkling Caribbean waters en route to St. Maartens. Will they arrive safely? Will they uncover what Pliant has hidden in their personal cargo? Will Morgan's cover be blown? Will someone be tossed overboard in the dark of night?
Beware the gathering storm . . . With the Clouds Over Miami