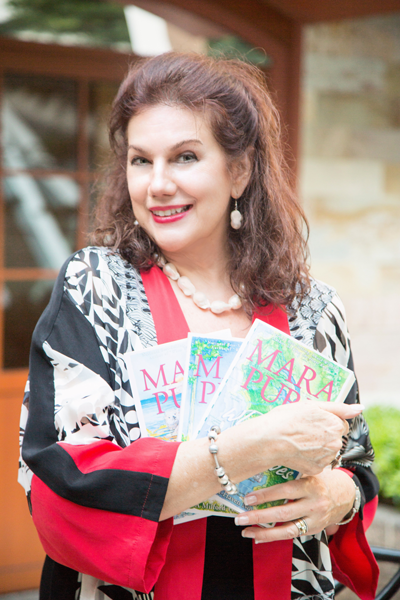 Women's fiction – like the women who read it – has evolved to include subjects and themes that reflect women's lives and resonate with readers. Romance, wisdom and mystery are the topics of the core novels, which include What the Heart Knows and Where the Heart Lives and Why Hearts Keep Secrets, by best-selling author Mara Purl. In her novels, you will meet Miranda Jones, a wildlife artist; plus a cast of characters that include a television journalist, an environmentalist, a Native American part-time student, a builder and an heir to an oil fortune in the fictional coastal town of Milford-Haven.
"Women's fiction lets readers taste the subtleties of relationships, romance and mystery," shared Purl, a former cast member of Days of Our Lives. "In my novels, the reader should let her imagination and her heart be her guides. Don't be afraid of where the story leads. While the outer journey takes you to California's gorgeous Central Coast, the inner journey can be even more exciting, a transforming adventure you won't want to miss."
The saga is enhanced by several novellas. When the Heart Listens is a prequel to the whole series; Miranda's wildlife painting adventures are stand-alone books that include When Hummers Dream, When Whales Watch, and When Otters Play. Journalist Christine Christian's own stories include paranormal novellas What the Soul Suspects and Where the Soul Leads.
You'll also want to discover the Holiday Novellas that tell magical individual tales of Milford-Haven's favorite characters.
And one more treat in store—the saga continues into the next generation! Set in the near future, the first Novelline is With the Dreams in Milford-Haven!
The Milford-Haven Novels have ranked #1 in multiple genres at Amazon.com, including Books, Romance, and Women's Lit & Fiction.
In Contemporary Fiction, book one hit #1. One of the most popular genres in the country, this category encompasses the last few decades . . . perfect for Milford-Haven, which is set in the late 1990s, the affluent, pre-9-11 time of infinite possibilities.
And in Saga Fiction, book one also hit #1—giving readers an important hint. This is a true series. The stories follow the lives of the main characters, each a complete storyline, but their stories also continue as the Milford-Haven novel series progresses. So although one important storyline concludes in each novel, the entire story will not conclude till the end of the series.
"My characters are realistic people with hopes and dreams that I have found women identify with in today's world, even though the series is set in the '90s," Purl explains. "Each book stands on its own, as a new story, but also builds as an overall saga. Each time you pick up a Milford-Haven novel, you'll feel like you're visiting with old friends."
NOVELS

NOVELLAS & NOVELETTES

HOLIDAY NOVELLAS & NOVELETTES

PARANORMAL NOVELLAS
Read the Milford-Haven Series in Order
Mara's Milford-Haven Series listed in order on FictFact.
The Milford-Haven Saga is set in the late 1990s and will conclude just before the new millennium. Here's the internal story Chronology:
1995: When the Heart Listens (Novel)
August 1996: When Hummers Dream (Novelette)
October 1996: What the Heart Knows (Novel #1)
November 1996: When Whales Watch (Novella)
December 1996: Where the Heart Lives (Novel #2)
December 1996: Where an Angel's On a Rope (Holiday Novelette)
December 1996: When Angels Paint (Holiday Novelette)
December 1996: When Angels Paint (Holiday Novelette)
December 1996: Where Xmas Marks the Spot (Holiday Novella)
March 1997: When Otters Play (Novella)
March 1997: Why Hearts Keep Secrets (Novel #3)
Original Collectors' Editions are now out of print.
A list of those editions with the awards they won may be found courtesy of Haven Books