The first Milford-Haven Paranormal Novella . . .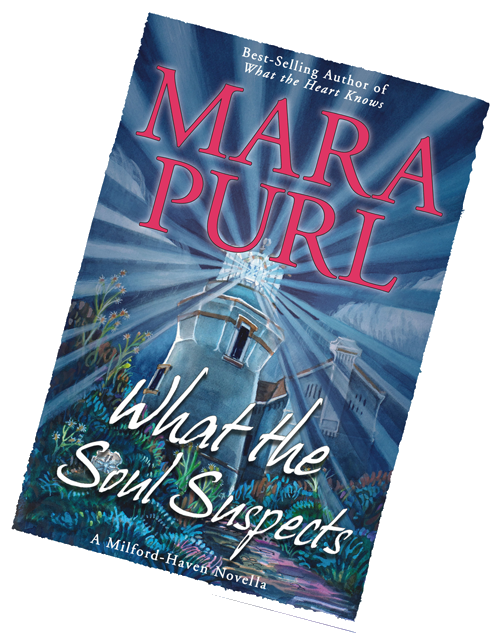 "Mara Purl is a master at drawing you into a story and keeping you in it until the very last page. Even though What the Soul Suspects is not like her previous books, she does keep her setting as the Central California coast, and she does bring in some of the characters from past books. This one features Christine Christian, and takes us back to a previous book, What The Heart Knows. where we were first introduced to her. If you follow the Milford Haven series, we don't read about Christine again until now. In What the Soul Suspects, we do experience quite a bit of the paranormal, in that Christine is prominently featured but as we quickly learn, it's her ghost, or soul, we're reading about. This book was entertaining but in a disturbing way, and it delved much deeper into the human psyche than Purl's previous books. I'm eager to learn if investigator Delmar Johnson will ever know what happened to Christine. Stay tuned…"
– Linda Thompson, Host of TheAuthorsShow.com
"Author Mara Purl has delivered a truly remarkable novella with What the Soul Suspects, an exceptionally written paranormal mystery. The world-building and character development in this novel is truly outstanding. In addition, Mara's use of descriptive imagery is so vivid that readers will feel like they are living and breathing each scene with the characters. For readers who enjoy stories with twists and turns with elements of the supernatural and metaphysical, this will keep you on the edge of your seat. A highly recommended read!"
– Elite Choice Awards, (Winner: Silver – Mystery)
"I LOVE this book! Spooky stuff told in a very provocative way . . . with wisdom! It's a wonderful book, so rich and nuanced with exploration of time, space, mind-states and special sensitivities. Much as I've enjoyed Mara Purl's writing in the past, there's something really special about this book that sparkles with conviction, mystery and beauty. There is something so elegant and inviting in this prose . . . really magical! It's not just the substance of the story but also the way it's being told. We're really there with Chris . . . as she drives through the Central Coast. I'm swept up into her world and reality. It really captivated me! Brava!"
– Marilyn Harris, singer, songwriter, composer
"Cool ghost story with two compelling characters, lots of real-world and metaphysical intrigue and even a dose of Laura Nyro. What's not to like! I found the prose style to be precise and painstakingly visual. The overall atmosphere of the narrative, almost a third major character, also comes to life effectively – as do the lighthouses and spiritual Native American influences – and the notion, at the end, of Chris actually teaming up with Del from the Afterlife to catch her murderer is quite provocative. Purl's imagination and craft keep getting better and better."
– Mark Kudlow, screenwriter
Awards:
Winner – Gold – Paranormal Romance – American Fiction Award
Winner – Gold – Paranormal Romance – Independent Press Award
Winner – Gold – Paranormal Mystery – Pinnacle Award
Winner – Gold – Paranormal – Elite Choice Award
Winner – Gold – Genre-based – Hollywood Book Festival Book Award
Winner – Gold – Regional Lit – Southern California Book Festival Book Award
Winner – Gold – Paranormal Mystery – New York City Big Book Award
Finalist – Silver – Mystery – Book Excellence Award
Finalist – Silver – Visionary Fiction – American Fiction Award
Can a soul hover after passing on? Can a person be unaware of her own death? Journalist Christine Christian had always been a pragmatist. Not even her own persistent intuitions could compete with her commitment to logic and to empirical proof. In fact, that's what had gotten her into to trouble in the first place. Of course, that very quality had also gotten her "the story" time and again, making her an award-winning reporter, a freelancer who'd managed to write her way into a respected series of television reports acclaimed by her peers and watched by millions of dedicated viewers.
She always knew it was risky to ignore those pesky "feelings" of her. She ignored them one time too many. Or did she? Is it really too late to reverse her decision? Can she at least warn others? Come hell or high water—and it looks like she's facing down both—she's still determined to finish her story, even if there's only one person left who can hear what she has to say—investigator Senior Deputy Delmar Johnson. Will he listen? Will he allow his own thinking to exceed the bounds of reality as he's always known it? Will he help Chris prove there's more to life than what meets the eye?
Though the story stands alone, it also extends the Milford-Haven Stories, part of the Milford-Haven Saga, the critically acclaimed, best-selling, multiple-award-winning series. Based on Purl's BBC Radio drama Milford-Haven U.S.A.