COMING APRIL 13th "NO MORE SECRETS DAY!"
The highly-anticipated Novel Three in the best-selling Milford-Haven Saga . . .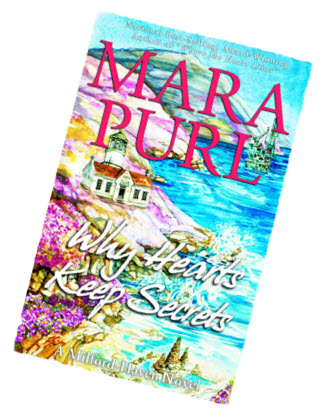 "The writing flows easily and the characters are compelling. . . . Purl has expertly interwoven her characters' lives into a colorful, fascinating tapestry of mystery, romance, and suspense. Readers will find it fun to pass the time with the inhabitants of Milford-Haven, and will want to know more about their fates."
– ForeWord Magazine
"Mara's Milford-Haven series goes deep into the life of artist Miranda Jones—her family, her agent, her friends and neighbors in San Francisco and the fictional town of Milford-Haven situated on the Central Coast of California. Intrigue, murder, and betrayal; musicians, murals, and shells; hummingbirds, whales, sea otters; … and an astronomer who shows Miranda how to reach for the stars in life and love."
– Derra Moyers, Editor
Miranda Jones has kept quiet about her past.
Her close friends know she comes from privilege, but she's asked them to keep her secret. Who is she now? A painter with growing success who focuses on wildlife, landscapes, and the environmental issues that mean so much to her.
But now it seems other people in her life are keeping their own secrets. Is Zack Calvin who he claims to be? What is it about the Clarke house that seems so out of place? Why is Meredith, her own sister, suddenly so interested in Milford-Haven? And how can she demand others reveal their secrets, when she won't reveal her own?
California's Central Coast is growing explosively.
Now, in the mid-1990s, tourism is up, but so are environmental regulations. Housing is on the rise, but so are water restrictions. Gambling is limited, but the Chumash tribe lobbies for a gaming casino. Crime is low on the quiet Central Coast, but a murder born of greed has yet to come to light. The stock market is booming, the upwardly mobile are pouring out of Los Angeles in search of a fresh start, or a weekend getaway. In these affluent, pre-9-11 days, it's a time of infinite possibilities.
Milford-Haven is a town full of characters.
Escapees from San Francisco and Los Angeles, New York and Arkansas, Montreal and South Africa, have come here with their own hopes and expectations, agendas and shadowed pasts. The stakes are high: create a new life from scratch. The opportunities are dazzling: own a piece of the California dream.
It's a town of buried secrets and a dangerous mystery, quaint shops and breathtaking vistas, peaceful solitude and spontaneous conversations.
What draws people here is the sense that—in their heart of hearts—they know there's something they've always wanted to do. But once they find the sign to Milford-Haven, pull off Highway 1 and find this coastal treasure, they'd like to keep the place a secret.
Come discover for yourself . . . Why Hearts Keep Secrets.