The best-selling Novel Three of the Milford-Haven Saga . . .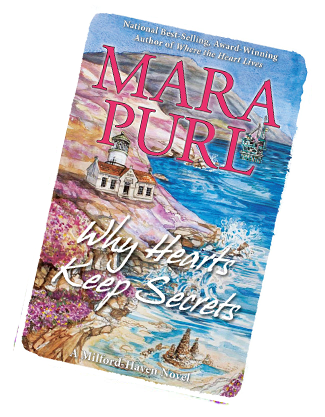 "…a colorful, fascinating tapestry of mystery, romance and suspense…"
– ForeWord Reviews
"…a compelling romance that draws readers into a world of mystery, suspense and intrigue…"
– Maincrest Media Review
"Why Hearts Keep Secrets by Mara Purl is a compelling romance that draws readers into a world of mystery, suspense and intrigue. Set in the coastal town of Milford-Haven, the story continues as buried secrets and hidden agendas combine to create an electrifying plot that will keep readers on the edge of their seats. Readers will fall in love with Purl's masterful plotline and stunning use of descriptive imagery. In addition, the characters are memorable, original and believable, with unique, well-developed backstories. An interesting, engaging read that could be read as part of the series or as a standalone." – Maincrest Media Reviews
"Mara Purl's multifaceted probe into the disparate lives and the community connections which keep threatening to reveal their most intimate underpinnings makes for a thoroughly engrossing story. The mysteries underlying these experiences will keep readers engrossed and often guessing about possible outcomes . . . . Libraries seeking books strong in emotional twists, community relationships, and small town politics and people will find no better acquisition than Why Hearts Keep Secrets, which cements all with a soap opera's ability to highlight private lives and public consequences with equal strength."
– Midwest Book Review
"The writing flows easily and the characters are compelling. . . . Purl has expertly interwoven her characters' lives into a colorful, fascinating tapestry of mystery, romance, and suspense. Readers will find it fun to pass the time with the inhabitants of Milford-Haven, and will want to know more about their fates."
– ForeWord Reviews
"I found this continuation of Mara Purl's Milford-Haven series to be every bit as captivating and revealing as all the others. The way Purl composes her novels, this series could go on for a long, long time. And true to form, the last chapter is another bit from Samantha Hugo's journal. Purl uses this journal to tie the story all together and it works well. Another wonderful read."
– Linda Thompson, Host of The Authors Show

Best-seller on Amazon
#1 in Women's Sagas
#1 in Mystery Series
#1 in Saga Fiction
Awards
Winner, Fiction: Romance – Indie Excellence Book Award
Winner, Fiction: Romance – USA Book News Award
Winner, Women's Fiction – Maincrest Media Award
Winner, Fiction: Romance – Beach Book Award
Finalist, Fiction: Romance – ForeWord Book of the Year Award
Finalist, Fiction: Romance – Book Excellence Award
Miranda Jones has kept quiet about her past.
Her close friends know she comes from privilege, but she's asked them to keep her secret. Who is she now? A painter with growing success who focuses on wildlife, landscapes, and the environmental issues that mean so much to her.
But now it seems other people in her life are keeping their own secrets. Is Zack Calvin who he claims to be? What is it about the Clarke house that seems so out of place? Why is Meredith, her own sister, suddenly so interested in Milford-Haven? And how can she demand others reveal their secrets, when she won't reveal her own?
California's Central Coast is growing explosively.
Now, in the mid-1990s, tourism is up, but so are environmental regulations. Housing is on the rise, but so are water restrictions. Gambling is limited, but the Chumash tribe lobbies for a gaming casino. Crime is low on the quiet Central Coast, but a murder born of greed has yet to come to light. The stock market is booming, the upwardly mobile are pouring out of Los Angeles in search of a fresh start, or a weekend getaway. In these affluent, pre-9-11 days, it's a time of infinite possibilities.
Milford-Haven is a town full of characters.
Escapees from San Francisco and Los Angeles, New York and Arkansas, Montreal and South Africa, have come here with their own hopes and expectations, agendas and shadowed pasts. The stakes are high: create a new life from scratch. The opportunities are dazzling: own a piece of the California dream.
It's a town of buried secrets and a dangerous mystery, quaint shops and breathtaking vistas, peaceful solitude and spontaneous conversations.
What draws people here is the sense that—in their heart of hearts—they know there's something they've always wanted to do. But once they find the sign to Milford-Haven, pull off Highway 1 and find this coastal treasure, they'd like to keep the place a secret
Come discover for yourself . . . Why Hearts Keep Secrets.
---
Why Hearts Keep Secrets (unsigned copies)