Check out Mara's May Events!
MAY 2012 EVENTS
May 2, 2012
Book signing for What the Heart Knows
Joseph-Beth Booksellers, Lexington, Kentucky
Mara conducted a Discussion Question & Answer and Book Signing at Joseph-Beth Booksellers in Kentucky.  Meet some of the fans that came for the event!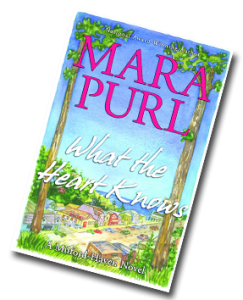 ♡♡♡♡♡♡♡♡♡♡♡♡♡♡♡
May 6, 2012
Generosi-Tea and Fund-Raiser
Mara Purl, Keynote Speaker
Mara was Keynote Speaker at one of her special Author-Tea events, this one co-created by Linda Naylor and co-sponsored by Comey-Shepherd Real Estate Agents in Cincinnati. The event was a fund-raiser for Bethany House Services, which provides assistance to homeless and disadvantaged women and children.
The event was one of the most successful fund raisers of the year, and provided a uniquely elegant and inspiring experience all the more than one hundred guests who crowded into the beautiful loft overlooking the Cincinnati skyline that had been chosen for the event.
Mara spoke about her personal journey "from Head to Heart" . . . and about how this journey is reflected in her best-selling novels. And she challenged the audience of women whom she addressed as "spiritual sisters" to listen more closely to their hearts.
♡♡♡♡♡♡♡♡♡♡♡♡♡♡♡