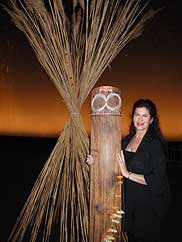 Music is a golden thread that continues to weave itself through my artistic life. Koto – the Japanese harp – is my primary instrument, bringing with it a link to my childhood in Japan and the rich history of oriental music.
At the same time the koto for me has always been a bridge forward into jazz and new age music, and I create new tunings and styles each time I play. The koto allows me to play on the World Music stage with some remarkable collaborators. Check out our projects!
You can download samples, or purchase CDs. I hope you enjoy the evocative koto sounds as much as I do!
Collaborations with Marilyn Harris & Mark Wolfram
Marilyn Harris, http://marilynharris.com/, a noted singer-songwriter, is also a beautiful pianist and improvisor. Our mutual admiration began when we were in our twenties in New York. Our collaborations have taken several forms through the years. In New York, we worked together to create koto and keyboard music for the Joffrey Ballet. Later, after we'd both moved to Los Angeles, Marilyn and her husband Mark Wolfram http://markwolfram.com/, a well-known composer, created all the original music for my BBC radio drama Milford-Haven U.S.A. The three of us worked together to create my albums Manhattan Malibu, which features my own songs, and Koto Kist, a collection of many of my koto pieces.
We hit our stride when we decided to try a koto and piano instrumental collaboration. With Mark as our producer, our album Koto Keys was critically acclaimed and has become a classic and a favorite for those in the healing and spa arts. Designed to inspire relaxation and contemplation, it invites listeners into a personal journey.
With the success of our first instrumental collaboration, we tried our hands at our favorite Christmas carols, and A Koto Keys Christmas was born. Now it, too, is a classic for the holidays . . . the familiar music with an entirely new interpretation . . . and a soothing way to de-stress the busiest time of the year. Join us on these musical adventures!
Collaborations with GORDONDANCE
Lonny Joseph Gordon (aka Lon Gordon) is an internationally acclaimed choreographer, dancer, and professor. He's also a master performer of the ancient art of Kabuki, and the only Western artist ever accorded the honor of actual apprenticeship at Tokyo's Kabukiza.
Through the years, I've had the honor of collaborating with him, creating music for some of his breakthrough dance creations. Our first collaboration was "Back Door," which we performed at the Museum of Modern Art in New York. Our second was Autumn Complexing Images" which Lon choreographed to a composition Marilyn Harris and I created for our CD "Koto Keys," and which I performed with Lon's dancers at the University Nevada, Las Vegas.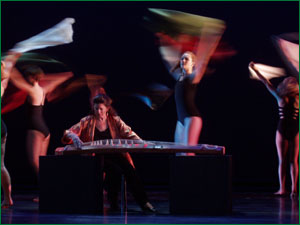 Mara's playing koto for Autumn Complexing Images,
a dance by Lon Gordon at University of Nevada, Las VegasOur NEW work "Ka-bu-ki: Leaning Out of the Ordinary" will be performed in January 2009 as part of the New Mexico Revolutions Theatre Festival, produced by the Triplock Theatre Company in Albuquerque. tricklock.com/Revolutions
2008: A year of celebrating & performing in New York City
WATERMILL
The New York City Ballet presented a revival of the unique Jerome Robbins autobiography in dance with musicians Mara Purl on koto. Steve Gorn on Indian flutes.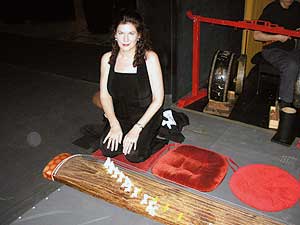 Learn more about Watermill at www.nycballet.com
Tzadik Records produced the long-awaited CD of Teiji Ito's ground-breaking, critically acclaimed and now classic score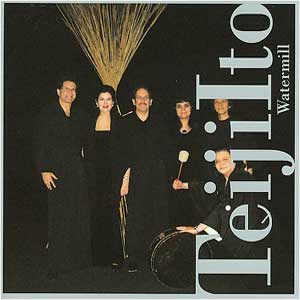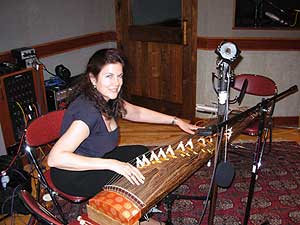 Mara and colleagues record the music for "Watermill"The Japan Society and Tzadik Records founder John Zorn produced a Teiji Ito Retrospective, featuring a live performance of the Watermill music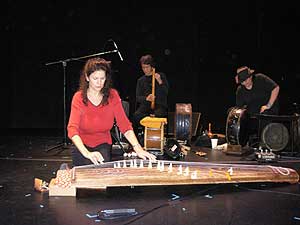 Mara and colleagues rehearse for the Japan Society concertThe sound files found below designated by the musical note are in WAV format and are a little over 100KB. The RA Symbol indicates a Real Audio file. These files are around 15KB, but require the free
Real Audio Player
for playback. Enjoy.
---
Instrumental
For the Holidays… "A Koto Keys Christmas"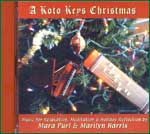 The traditional carols…as you've never heard them before….
Listen and purchase at www.marilynharris.com
Download Music:
Preview or Purchase from iTunes
https://itunes.apple.com/us/album/a-koto-keys-christmas/id151659694
Purchase Download from At Peace Media
http://www.atpeacemedia.com/music/detail/a-koto-keys-christmas
Purchase Download from EMusic
http://www.emusic.com/listen/#/album/mara-purl-marilyn-harris/a-koto-keys-christmas/10925615/
Purchase Download from Rhapsody
http://www.rhapsody.com/artist/mara-purl/album/a-koto-keys-christmas/
Music CDs:
Purchase CD from Wrightwood Records
http://www.wrightwoodrecords.com/index.html
Purchase CD from CD Universe
http://www.cduniverse.com/productinfo.asp?pid=7155189
Learn more, listen, and purchase at CD Baby
http://www.cdbaby.com/cd/marilyn4
---
"Koto Keys"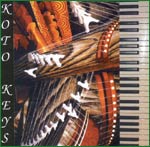 Learn more, listen, and purchase at CD Baby
or listen and purchase at marilynharris.com
or preview and purchase at iTunes
---
"Koto Kist"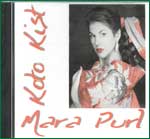 One day while looking through my attic, I found a treasure box. It was full of recordings of music I'd created mostly for dance concerts — New York City Ballet, Joffrey Ballet Company, Dance Theatre of Harlem, and Lonny Joseph Gordon Dance Company among them. With co-producer and collaborator Marilyn Harris, I listened to them carefully and realized they flowed together to describe two things musically: first, the seasons; second, a geographic progression from coast to high desert. Then I discovered that "Kist" is a Celtic word for treasure box. Cambria Records released this classic collection as KOTO KIST. "I am a big fan of the album Pathless Path. I love the work you did on it! Where and how can I buy Koto Kist? Thanks!" — David Whelpley, Bethany CT
Check out the review of "Koto Kist" at Heartsong.
Learn more, listen, and purchase at www.cdbaby.com
---
"Koto / Pathless Path"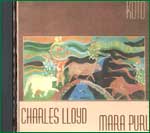 In the late '70s, Charles Lloyd and I collaborated on a beautiful project. Originally it was released on vinyl as "Koto." Later it was re-released as "Pathless Path." Believe it or not, we continue to get mail about this album even now. It became a "cult classic." Cambria Records is ready to release it again as "Koto", this time on CD — but so far we have not been able to track down the legal information required to do so. The original record label is long gone. So, for now, we're preparing to offer the following samples!
Vocal
"Manhattan Malibu"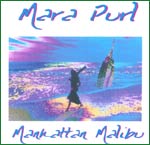 "Rescue"

  "Rescue"