The best-selling Prequel to Book One of the Milford-Haven Saga
"This novelette took me by surprise. There were so many things going on in such a short story and it made for a marvelous introduction into Purl's Milford-Haven series. Her descriptive way of writing made me taste the lunch, feel the breeze, see the paintings, and hear the hummingbird. A very unique perspective going from the thoughts of the person to the thoughts of the hummingbird – I loved it. I'm reading this series in order, so I can wait to delve into the next one."
–Linda Thompson, Host of TheAuthorsShow.com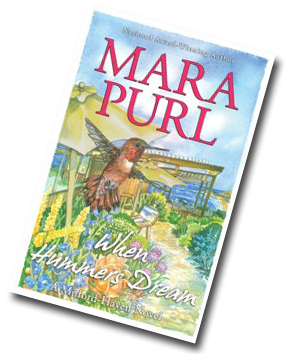 "I was moved to tears by Mara's story. It is told not only from the artist's perspective, but from the hummer's point of view as well, describing his 'out of bird' experience.

I love hummingbirds and share my photographs of them in my Sedona Hummingbird Gallery. I adore this story."
–Beth K. Hawkins, "Hummerlady," Sedona, Arizona
"I loved the painting that you created through words of the garden. I could picture the positioning of every flower & plant. The description of the fuchsia 'acrobat dancers hanging from ropes, skirts flying and blouses puffed up with air' was absolutely WONDERFUL and truly fit!"
–Sue Batton Leonard, Owner, Cornerstone Fulfillment, Colorado
"I have never before described any writing as "delicious", but honestly, I can't think of a better adjective to use in this case. I don't tend to enjoy books that have too much detail in the description of the locale or wardrobe of the characters or whatever. However, the prose here just feels like eye candy. I loved every minute as I read through this short story, and as a result, Ms. Purl has a new fan."
–S.K. Razz, Texas
Best-seller on Amazon
#24 in Books
Awards:
Winner, Short Story – USA Book News Best Book Awards
Nominated, Short Story – Global E-Book Awards

Can a hummingbird dream? Artist Miranda Jones thinks so. Sensing the tiny injured bird that wings its way into her world still lives, she paints the creature's dream-garden and seems to reach into his very heart. She reached into her own heart to create a new life for herself in Milford-Haven.
She loves her new hometown set within the undiscovered beauty of California's Central Coast. One of her dear friends is environmentalist Samantha Hugo — a brilliant PhD twenty years her senior who gave up a son years earlier. Another is Sally O'Mally — a local business owner who has also started a new chapter of life.
The locals have respect for the native fauna and flora. Why do the tourists have to come and spoil it? Of course, it's their seasonal visits that fuel the town's economy for the whole year, so she shouldn't be complaining. But where's their respect for the local wildlife and the blissful quiet of the peaceful Central Coast?
Hummingbirds make Milford-Haven their summer home, spinning through the lush local gardens and sipping ambrosia from a multitude of flowers. Miranda visits her favorite garden to create her latest watercolor, but finds a close encounter with a tiny bird changes everything…
Though the e-book stands alone, it also introduces Book 1 of the Milford-Haven Novels, the critically acclaimed, popular series, a multi-generational saga. Based on Purl's BBC Radio drama Milford-Haven U.S.A.
Don't miss the story before the story … the short story that happens right before Book One, What the Heart Knows.
| | | |
| --- | --- | --- |
| Order Your E-Book Here! | | Order Your Audio Here! |