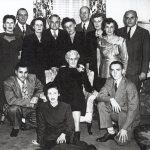 Traveling from Head to Heart – Between Mother's Day and Father's Day, 2015, my husband and I took a driving trip to honor my late parents, and to connect with family in the south-eastern part of the country. Our adventures expanded into a clearer sense of The Past—our personal memories, our ancestors' stories, and our country's history. Enjoy!
Each of us seems to have some places in this world that have special resonances. For me, these places always seem to be by the ocean, or in the mountains. In fact, I feel most connected where mountains and oceans are close together, which partially explains why my Milford-Haven Novels are set along California's Central Coast. I often muse upon how these resonances began, and our recent travels through West Virginia provide some major clues.
There, the mountains are different from those we see in the west. Frost heaves have quarried boulders, glaciers have carved rocks, and rivers have sifted particles that scour like fine sandpaper, abrading the jagged upthrusts into shoulders rounded with age and gentled by weather.
Those rounded shoulders remind me of my great-grandmothers', draped in black silks and adorned with lace collars. I remember her coiffed white hair and the sparkle of jewels at her ears. And though I was only a tot, I recall her final days, sitting in an upper room at my grandparents' house, propped up against crisp bed linens, talking to those of us in the room, but also talking to people we couldn't see, already making her transition.
But there was another version of Great-grandma Goff that I'd just encountered. While staying with my aunt and cousin a few days earlier, we'd opened a box sealed since the day our great-grandmother had packed it. Alongside the three massive family Bibles, we'd found a collection of formal photographic portraits, and there she was in her glory: young Alice with her glossy, upswept hair—the same color as mine—eyes flashing, waist cinched, seated in front of her dashing husband who stood behind with a hand on her shoulder. They were all there—the siblings and the spouses, two generations of grands and greats whom I'd only known briefly in their dotage, or heard about in stories.
For my husband and me, the prospect of getting to Harrisville was somewhat daunting. Though only about 1,000 feet above sea level, it's situated at the far end of hairpin turns requiring four hours of winding into the Blue Ridge range. But his mountain driving skills carried us right to the door of the Ritchie County seat, where we found archived deeds mapping the real estate transactions of my maternal great-grandfather and his sons.
Then, while Larry parked our car, I wandered down a hill. I didn't so much wander as respond to the unmistakable pull—as if a long-forgotten magnet had been activated—toward a porch that peeked from behind a steep slope. I stood transfixed in front of a two-story, wooden house while an internal movie began to play.
In my memories, honeysuckle twined itself densely through the framework along one wall of the wrap-around porch, sweetening the air. In the cool of the cellar, I reached high to grasp one of the scores of jars of applesauce my grandmother had made. My little legs pumped hard to make the rope swing go higher. I sat on my granddaddy's lap and asked for the hundredth time to listen to his "tick-tock"—his gold pocket watch. The aroma of biscuits wafted out from the kitchen.
When I was about three years old, I spent some months here, staying with Granddaddy and Mamaw, as we called my grandmother, the nickname derived from the French spoken by ancestors. (The same nickname is used in my husband's Kentucky cousins.) Each floor of what seemed like an enormous house delighted me with its treasures. Upstairs, I loved to explore Mamaw's Cashmere Bouquet-scented dressing table. On the main floor, I "helped" in the kitchen or played glossy records on the beautiful turntable. In the cellar, I watched laundry being pressed through a hand-roller and heeded warnings not to get my hand caught. And when my first cousin visited too, we raced through the orchard or played with kittens in the barn.
Suddenly jerked back to the present by a round of barks from dogs chained on the porch, I watched as the current lady of the house pushed open her screen door to ask if she could help me. I apologized, and explained that this used to be my grandparents' house. She stared at me unconvinced. She knew everyone in town, and no stranger could make such a claim. But when I mentioned my grandparents' name, her face lit up. "Well then, we're kin!" she exclaimed, beginning a litany of sons and daughters, aunts and uncles, while pointing at houses up one hill and down the next. I wasn't invited in, but thanked her for her time.
In the courthouse, we'd found a helpful archivist who'd been able to look up which cemetery held the remains of my grandparents, and we drove there next. Having ignored the warning that we'd never find the headstones without help, we parked and somehow walked directly to the family plot. And there they all were: Granddaddy and Mamaw, Great-Grandma and Great-Granddaddy, Great-Aunt and Great-Uncle.
In the quiet afternoon breezes, standing on the grasses of their final resting place, it was as though those photo tintypes we'd found came alive so vividly—their faces and smiles, their scents and movements. And then, as if I'd put my ear to a long disused railroad track, I could hear their voices singing down the rail—a trill of laughter, a call to dinner, a sing-song of warning, a snatch of story.
Where had they been all this time? My head had forgotten what they gave to me, and how much it meant. But, apparently, my heart always remembered.