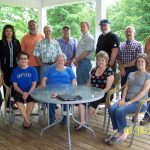 Traveling from Head to Heart – Between Mother's Day and Father's Day, 2015, my husband and I took a driving trip to honor my late parents, and to connect with family in the south-eastern part of the country. Our adventures expanded into a clearer sense of The Past—our personal memories, our ancestors' stories, and our country's history. Enjoy!
Our journey began with a "cousin reunion" my husband arranged with all the grand-children of his paternal grandparents. We stayed with one of his first cousins, a delightful, colorful woman who, within the mellifluent tones of one sentence, brings alive my husband's Kentucky roots—as well as those of my character Sally O'Mally. One discussion involved the merits and properties of buttermilk. "Well it's sour, you know," she said, pronouncing the word as "say-er."
The reunion included nine cousins and some of their significant others, who drove or flew from various parts of the country and was held at the lovely home of another first cousin and her husband. Counters had been polished clean in preparation for the arrival of food. Though most of it might have been "store boughten", the menu was just what the old-timers would have slaved over hot stoves to prepare, and soon platters of fried chicken, bowls of green beans, baskets of biscuits, and numerous other favorites covered every square inch. We sat at tables in the ample kitchen, the den, and the huge screen-in porch, which overlooked an astonishingly green array of lawn and trees. When our sunny day gave way to a deluge, we delighted in the scents and sounds of fresh rain and kept eating—and telling stories, many of which were inspired by the hundreds of archival family photos my husband has been scanning and cataloging.
The stories are what made the day both indelible and significant. It all comes down to POV—Point Of View—that all-important factor in the writing of fiction, and in the telling of stories. The only story I'd heard about the Grandma these cousins had in common was her tyranny. She'd been known to yell across from her farm to her son's, demanding that her daughter-in-law drop everything and come do her bidding. But at the reunion, I heard a new story. Someone in the family had married a n'er-do-well who preferred skiddaling off with his drinking buddies rather than caring for his infant son. Grandma put a stop to that, corralling two of her sons—an Army Private and a Marine Sergeant—for assistance, and swooping down to rescue the hollering baby boy, who then lived with his mom and grandma for four years, until a wonderful new daddy joined the family.
This same grandma was said to be a flashy dresser on occasion, and one of the cousins had saved some of her jewelry. Out of its case came a sparkling black-and-amber cut-glass-bead necklace with matching bracelet and earrings. To my surprise, these were given to me. Now that I knew more about this passionate, larger-than-life woman, I was thrilled to accept these treasures, which I'll pass along to my step-daughter—though I might wear them first, say on New Year's Eve.
Foibles and embarrassments, mistakes and forgiveness, recipes and holidays—all were mentioned as the long afternoon wore on into early evening. There was occasional sadness and there was laughter, lots of good-natured laughter. The rain stopped and the skies cleared to a lovely sunset, as the cousins helped themselves to one more piece of pie.
I came away with the impression that most of the greats and grands of the family were quite heroic in their way, surviving the Great Depression, serving in the Great War, and coming home to tend their farms and care for their families. Next time, we want our kids to be there with us, lest these stories be lost in the mists of time. These parental and grand-parental folks used their heads to the very best of their abilities. But mostly, they lived from the heart.