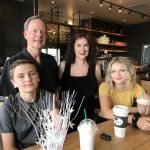 The Doobie Brothers are my favorite rock musicians. Several members of this iconic band have been friends of mine for decades, and I never let a year go by without attending a concert, or a rehearsal. In 1987, the late Keith Knudsen—one of the original drummers and a friend we all miss tremendously—organized a reunion concert at the Hollywood Bowl. I spent the day backstage with families and friends and the fellowship, good will, generosity, and great music that unfolded through the day and into the night inspired me write an episode of my BBC radio drama Milford-Haven U.S.A. ("The Rock Concert" episode of Milford-Haven podcast.) In the novels based on the radio drama, the Doobs again appear "as themselves" in book two, Where the Heart Lives. In 202  they will be on their 50th anniversary tour. Not to be missed! Check TheDoobieBrothers for their dates.
This July, my husband joined me in taking our next-gen to their first Doobie Brothers concert. As always, we had great seats, and had a few minutes with good friend John McFee backstage after the show. The exuberance, hugs, stories, catching-up is always a joy. But to share this with our grandkids was a personal thrill, and also a social experiment, in that we'd be taking two young teens (13 and 16) to their first major rock-and-roll concert. What would they think? Would they enjoy it? Find it weird? Would the music sound dated to them? Would they spend their time looking at their phones, instead of at the stage?
They loved it. They soaked up every detail on stage and off, and at one point I caught my grandson mimicking the motions of the seasoned guitarists. Kensington, at 16, is extremely music-savvy, and very articulate. We did a Q&A after the show. Here's what she shared.
Q-What struck you first?
A-The fact they could actually play instruments, and the talent they actually possess was amazing. A lot of musicians today are using auto-tune, synthesizers. Not a lot of them make their own true sounds, unaltered by technology. That's why I listen to a lot of music from the 80s, the 70s, even the 50s, because the sound was authentic, and to me that's so much better.
Q-Was there a certain aspect of the music you liked most?
A-The solos—those were some of the best things. I thought it was amazing they had an actual saxophone player. I had never seen someone play sax in rock-and-roll, instead of jazz. He was rocking out. I personally believe the drums make the band, because that's the beat. People on other instruments stay with the beat, then they go off on their own rhythms, then they come back to the main beat. The fact that the Doobies have two drummers made the music more powerful and you could always hear the beat.
Q-Any other instruments capture your attention?
A-It was impressive that John McFee played guitar but also violin. And the piano solo was amazing. And I loved that they incorporated piano and saxophone into rock music.
Q-Did you like the instrumentals or the vocal better?
A-The vocals were like . . . perfect! I mean, they hit every note, no mistakes, high notes, low notes, harmonies. They are just really good.
Q-This band has been together for a long time. Did you find it hard to relate to them?
A-I thought the age range in the band was interesting. There were older musicians and younger ones too, and they connected in the music. And even though the founding members are older now, they've never lost that "young" energy and spirit.
Q-Was it fun going back stage?
A-Going back stage was amazing! Having that access to these incredible musicians was really great. Personally meeting someone like John McFee, who was so nice . . . and funny! Realizing that this same person was also this amazing performer made the whole thing more real for me.
Q-So would you rather listen to their music through your earbuds, or at a concert?
A- I felt like I was at a concert that my friends would go to. The audience was full of people wearing much cooler clothes than what most people wear. Hair . . . makeup . . . and people started standing up and swaying or dancing at their seats or in the aisles. On stage, I thought the lighting was amazing, because they went all out. I mean, the strobe lights, the colored lights everywhere, it was elaborate and amazing.
The thing is being with people at a concert . . . That's a really important part of the experience. Like, you're sharing something, experiencing something you can't experience on your own. There's an energy that comes off the stage and then it goes into everybody's heads and hearts, and suddenly we're all sharing it. When they sing "Listen To the Music" it's a nice song but it's so much more when we all listen to it together.
Everybody is there for one reason, a joy we share. Everything else goes out the window, like that we might all have these other differences. It's an overwhelming feeling of being accepted and included. That's one of the best reasons to go to a concert and listen to live music.