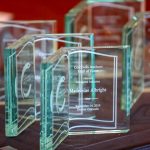 As the sun set over Denver on a beautiful September Saturday evening, long golden rays lanced over the Front Range and danced across an array of sparkling tables and animated faces. The inaugural induction ceremony of the new Colorado Authors Hall of Fame would start in minutes, and excited inductees, family members, friends, fellow authors, and supporters gathered in their finery, greeting one another with joy and just a frisson of nerves.
We were the core team — founder Judith Briles, board members, our colleague and EmCee Dom Testa — reviewing our notes between introductions and welcomes, catch-ups and networking. Inductees were swept off for red-carpet photos and brief press interviews, candid shots snapped throughout the ball room, and somehow we managed bites of the delicious plated dinner.
Then Dom introduced me and I welcomed our guests, and thanked our sponsors, reading a special message from a CEO named Karl Pearson. He had sent gifts from his company for all our inductees: each of them received a Cross pen—gorgeous writing instruments for these noteworthy authors, individually gift wrapped, labeled with personal notes, and placed on the tables. We couldn't have known in advance that the glossy black Cross wrapping paper would match our black satin tablecloths, as though we'd planned even that detail of our decor.
And this synchronicity underscored the theme of the evening, which zinged as magically as electricity, while the inductees began to share stories. For this was not a room of tongue-tied armatures trying to remember whom to thank. This was room full of story-tellers whose very craft was to grasp the significance of events; an event filled with authors who carry virtual lenses in their mental backpacks, which they use to magnify the meanings of life's moments.
Inductee John Fielder has photographed Colorado's most breathtaking views, and had endured many adventures to get the right camera angle. In a story shared by his book designer, our colleague Rebecca Finkel, there to accept on his behalf, we learned he had tried unsuccessfully to find a map to Eagle's Nest. Deciding to "wing it" he stopped at a Cortez, Colorado store for provisions, and glimpsed a rack of Louis L'Amour books. Grabbing and buying one, he riffled at random through pages. To his amazement, it contained the map he hadn't been able to find anywhere else.
Louis, my friend and mentor, left a vast legacy of Western tales that his family have continued to publish. His beautiful, accomplished daughter Angelique L'Amour, an author in her own right, joined us to accept Louis' award—-and loved extending that Eagles Nest story.
The golden thread of synchronicity wove itself through the evening's tapestry, and we found ourselves nodding our heads: yes, of course. Because these authors' works criss-cross the country as they're shared from bookstore to friend to library to book club to airplane seat to truck stop. And because these authors are also readers who find treasures in the written word. And because these authors are also mentors who share their secrets with those coming up the path behind them. Inductee WC Jameson is the foremost authority on treasure hunting in the U.S. with more than 100 books to his name. But what he shared was his discovery of treasured fellow Colorado authors, one of whom he married—the accomplished author Laurie Wagner Buyer Jameson, who sat smiling beside him.
Another theme that rose from the stories shared in the brief, meaningful acceptance speeches was Colorado history. Those who came before us were remembered here, the details of their successes and failures adding twists and knots, as well as rich colors and textures to the tapestry. Inductee Ann Parker shared the stunning discovery of detailed correspondence written in the 1800s. The family had found these postcards, disappointed at the boring accounts of daily life. But for Ann, this was the gold mine that helped her to right her historic Leadville series.
We won't be holding our next induction ceremony until 2021, but already the names of nominees are being submitted. We've received more press locally and nationally than we expected for this first event. And we're all still aglow with our special evening. What we know is this: until now, there has never been a Hall of Fame for Authors. (There are some for writers, a much broader category.) We found a gap that'd remained invisible for years, decades, and the early centuries of our state and country. These authors, and their works, shall not be forgotten. The written and published word is being burnished anew, illuminated with a fresh light from the powerful Colorado sun.