When:
2021-03-20T00:00:00-07:00
2021-03-21T00:00:00-07:00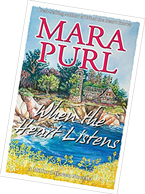 "When the Heart Listens" by Mara Purl
March 20, 2021
Spring Equinox
Special Promo
Join Mara for a week-long Special Download
March 15 – 20
Can the heart be telling us something we can't quite hear?
Landscape artist Miranda Jones thought she was on track. Yet something feels off kilter. The subjects of her work all live in nature, yet she herself lives in the city. Her rep and her family emphasize money as the benchmark of success, yet her own goals have to do with the professional challenges of excellence, adventure, and authenticity. She plans a brief trip to join plein air artists in the Carrizo Plain to paint this year's extraordinary super bloom. Yet what she experiences is a journey that opens a chapter into a new life. At least it will, if she considers what might happen . . . when the heart listens.