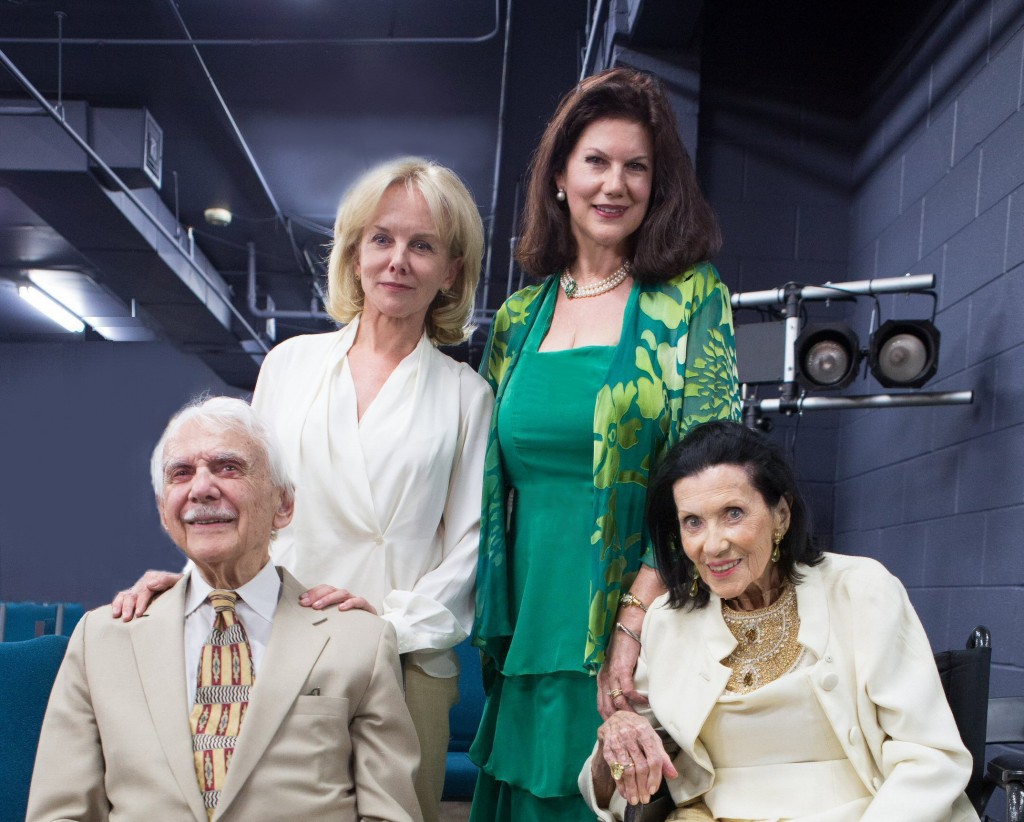 "A Year for Mom" is a collection of posts written during 2013, the year of my mother's final illness and of her passing. Some of the most heartfelt and extraordinary communications I've ever sent or received took place during this challenging year. I feel I learned so much that ultimately it was as much a year of gain as of loss. Many of my friends and readers have expressed a wish that I share my experiences. These personal moments are shared . . . from my heart.
It had started as one of Mom's bright ideas. Though she and Pere had been unable to fly to California to see my sister Linda perform the remarkable one-woman show The Year of Magical Thinking, she imagined that, somehow, the show could come to her. What about a fund-raiser, she mused, something to benefit the Conservatory where so many young artists get that initial boost that makes the difference in their lives?
I had seen the performance in Santa Barbara, returning to fill my parents' ears with lavish reports of Linda's transcendent work and audiences' riveted attention, along with stacks of glowing reviews. So when Mom told me about her fund-raiser idea, I thought it was a perfect. We called the Conservatory's director, another Linda, and invited her to Purlieu for lunch. Homemade stew had been delivered by a dear neighbor for lunch that day, and I augmented it so we'd have plenty for Linda Weise, my folks, and our close family friend Michael Chapman, who devoted himself to serving lunch to my parents twice a week during this challenging time. The dining room was as festive that day, as it had been for so many meaningful, intimate luncheons through the years. And, once again, Mother was declaring a vision, enacting a possibility, inviting others to help carry out something that would bless, inspire, assist.
Linda Weise arrived, dressed beautifully enough to have audience with the head of the National Endowment, such was her respect for my parents. While enjoying the soup and hot rolls, her large eyes got even bigger, realizing what a uniquely exciting idea Marshelline was suggesting. Of course, Mother hadn't yet asked my sister, nor inquired as to the rights to the production, but such permissions were trifles, compared with the dazzling vision that played across her imagination. Linda W. left Purlieu willing and ready to do whatever might be necessary to make the event a reality.
Accepting the role of Co-Presenter—something less that Co-Producer, as this show had already been produced—I visited the space, met with the manager of the capital campaign and the rest of the team. Meanwhile, Mom immediately secured my sister's agreement. How could she refuse "She who must be obeyed"?
What had come up at my Conservatory meeting that Mom would not be told, was that we'd plan the event for Mom's birthday. And there would be one more surprise: one of the studios in the newly purchased Conservatory's permanent home would be named for our parents. The Purl Dance Studio would be announced immediately following my sister's performance, at which time I would give a brief talk about arts education, a passion I share with my family. It promised to be a most extraordinary event. Now we had only to pray that Mother would still be with us for The Big Day.
One month earlier to the day, we'd held the last of the Purlieu International Salons, a Tango Milonga. Mom had requested it in particular, and she'd been there not only in good spirits, but with enough strength that—with assistance from my tango teacher in front, and my sister supporting her from behind—she'd actually danced across the floor. That now seemed a long time past, and ten days ago we couldn't imagine she'd be strong enough to be here for her birthday, yet—magically—here she was.
Mom's special chariot pulled up to the Colorado Springs Conservatory and the driver helped her into a wheelchair, while the family's helper Matthew assisted Pere. Arriving just a few minutes earlier, I'd located their seats in the intimate, subterranean theatre—front row, stage right. Barely glimpsing the faces of the gathering crowd, I focused on the details of their arrival and installment in their places, securing adjacent seats for Matthew, and for Amelia and Dave, my step-daughter and son-in-law. Their presence would comfort and reassure, I knew, while my husband and I hovered at the rear of the house, available to facilitate a quick departure, should the need arise.
Now the floodgates opened, and Larry and I stationed ourselves to greet the dear friends and supporters of the arts who quickly filled the house to capacity, including Annie and Michael Campbell who'd driven from Santa Fe. "I'm here for myself," Annie said, "and for my father." Walter and Ray . . . our dads . . . a friendship that spanned multiple decades and two cultures, and included more interwoven theatre tales, the most extraordinary involving a visit from Tennessee Williams. "This theatre has a ghost," Linda Weise said before the show began. "Every good theatre does," I replied.
Folding chairs were brought in to seat those who were left standing. Larry and I had no place to sit, so we heard, rather than saw, the show, tucked just at the edge of the rear wall. I heard again the gasps, the tears, the laughter as the audience rode on the waves my sister sculpted for them on a sea of emotions and realizations, insights, and memories. At the final blackout the crowd lifted from their chairs and filled the room with applause.
I could just see my parents as the audience settled back down. Mom turned her head toward Pere, her expression beaming. One or two audience members left and I snuck down close to the stage to grab an empty chair beside my sister, who'd found a spot on the floor. Linda Weise stepped onto the stage to introduce some of her students, who now took their places. "For Mama!" they sang, their Broadway-in-training voices resonating with promise.
Suddenly, all the pieces fit together. Here they were, the people who'd become our parents, these two sweethearts of seventy-two years, both of whom had begun life in the arts. They'd met doing a show together and their mutual love of the theatre was a lifelong bond that gave them structure and purpose, common ground and shared core values. Through their many years together they'd performed on many stages, large and small, public and private, professional and community. But they'd also mentored, coached and taught. Now this lovely group of students in this lovely school for the arts were thanking them, standing in for all the students and young people who'd received encouragement and training through the years, just when they needed it. This was the cycle of life. And this was their metaphor. They'd done the good works their talents had afforded, and now they'd leave behind a legacy that would continue their noblest intentions.
As I shared from the stage after the students sang, theatre had given our parents their own personal mission statement. Mother had taken the proverbial "the show must go on" and made her own mantra for herself and her family: "Rise to the Occasion." I remember not much liking those words when I was a child. And I remember liking them more and more as it helped me achieve my own goals.
I marveled at Mom as I stood awash in the bright theatre lights and gazed into her beautiful face. Her body had already begun to dissolve out from under her by the time she sat in that theatre. And her spirit had already begun to get glimmers of what might be next. In the wee hours she watched visions on the ceiling of her bedroom, she'd told me. She saw familiar faces and new locations. "You know your life continues, Mom," I'd said to her. "You think that?" she'd asked. "I know that," I'd replied. "Well, why not?" she'd answered. And she'd begun to make plans, maybe for the next production that would inspire and encourage people she'd yet to meet or even imagine.
But first, she'd had this goal in mind—to see one daughter give one more speech, and see the other daughter perform once again; to spend an evening in the theatre with her husband; to celebrate a milestone birthday in company of family and friends. "Thanks, Mom," I said from the stage. "Thanks for rising to the occasion."