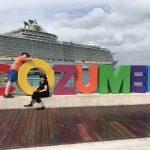 Publishing at Sea: I was recently a faculty member at this marvelous conference for authors. We enjoyed excursions on our three non-teaching days. As our magnificent ship left port in Florida and headed for the sparkling waters of the Caribbean, I was struck by the fact that our ports of call would be three islands, each with a history of colonization by a European country. Though each had established sovereignty at least a century or two earlier, still, woven into the fabric of these island cultures were the threads left behind by their colonizers.
Our third visit was to Cozumel, once a colony of Spain, now part of Mexico, off the eastern shore of its Yucatan Peninsula. Once we glimpsed its azure waters, it was easy to understand why it's one of the world's most famous destination for snorkeling and scuba diving. We'd hoped to snorkel, having managed to fit our gear into our luggage. But when we discovered we wouldn't have time for that lengthy of an excursion, we decided to stay in port where we found all kinds of treasures.
Shortly before our cruise began, we'd started listening to the audio book of James Michener's Caribbean—a fascinating book which, true to form, begins with the pre-history of the region. I know his books are carefully researched—I actually worked for him as one of several researchers while I was a college student. But I did some of my own research about Cozumel, too, discovering that the Maya are believed to have settled the island by the early part of the 1st millennium AD. According to their religion, the island was dedicated to the Moon Goddess, but eventually had to battle the warring Caribs who destroyed temples and practiced human sacrifice on the original inhabitants. The island does have Mayan ruins, which we wish we'd had time to visit.
The Maya were still there when the Spanish arrived in 1518, greeting the visitors more peaceably than people on the mainland, and resupplying their ships even after Cortes destroyed some Mayan idols and replaced them with statues of the Virgin Mary. Sadly, most of the Maya were killed by small pox, brought to the island by a later Spanish expedition. Those left on the island were later evacuated to the mainland to avoid frequent raids by pirates.
A compelling landscape of jungle, soft, white sand beaches, and the spectacular waters, now surrounded by the Cozumel Reefs National Marine Park, beckon to visitors. But we found the charming portside shops equally compelling in a different way, offering the gorgeous craftsmanship of silversmiths, as well as jewelry of all kinds from tribal to polished and refined—all of it offered by expert bargainers who love nothing more than a good negotiation over price.
Since I write about a small, coastal town that draws tourists both with its picturesque beauty, and it's local arts and crafts, I always find it fascinating to find parallels in other locations. So Cozumel deserves a closer look. At least we scratched the surface of that beautiful island off the Yucatan, and we look forward to returning to those sparkling waters for further adventures.