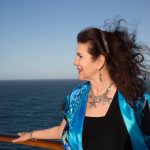 Publishing at Sea: I was recently a faculty member at this marvelous conference for authors. We enjoyed excursions on our three non-teaching days. As our magnificent ship left port in Florida and headed for the sparkling waters of the Caribbean, I was struck by the fact that our ports of call would be three islands, each with a history of colonization by a European country. Though each had established sovereignty at least a century or two earlier, still, woven into the fabric of these island cultures were the threads left behind by their colonizers.
Our second visit was to Jamaica, once a British colony, that still has elements of the cool, collected English culture woven into the bright, vibrant fabric blended of indigenous and African peoples. One still drives on the left; one may still take tea in the afternoon; language has a touch of formality; bearing is upright; and the island is enticing in its beauty and grace, while at the same time being a complexity of profits and losses, of abundance and of want.
The original inhabitants of Jamaica, like those of Hispaniola (now Haiti and the Dominican Republic) are believed to be the Arawaks, also called Tainos. Migrating northward from South America 2,500 years ago, they named the island Xaymaca, meaning "land of wood and water." Peaceful by nature, they were adept at agriculture, developing bounty by growing cassava, sweet potatoes, maize, various other fruits and vegetables, plus cotton and tobacco.
There follows as colorful a history as can be imagined—and has been, in numerous books and films. Christopher Columbus arrived in 1494. In 1509 a new group of Spaniards arrived to establish a colony. In 1655, the English attacked Jamaica and the Spanish surrendered. By 1673 the English had installed the pirate/ privateer Henry Morgan as its Lieutenant Governor. And by 1739, 430 thriving sugar plantations had been established—built upon a labor force of enslaved Africans. Frequent slave rebellions gradually eroded the false stability of the island, with their full freedom granted in 1836. Jamaica's history remained tumultuous following the freeing of the slaves, but there was always a drive toward autonomy and in 1962 Jamaica gained political independence from England and its Constitution took effect.
Our ship pulled into Falmouth, alongside a Disney cruise ship, which looked enormous, until we looked back toward the harbor from land, and saw it wasn't as large as our own. I imagined, for a moment, how many ships had docked here over the centuries. For passengers aboard our cruise, marvelous excursions were available to take advantage of sugary beaches and water sports, which many people enjoyed.
My husband and I, and a few other friends, however, chose to spend our day differently. The ship offered a "Pay It Forward" option that would allow us to spend a day first at a homeless shelter in the country, then at a soup kitchen in the inner city. This was exactly our "cup o' tea" and we boarded a mini-bus that drove us past the vast estates with their lush vegetation and ocean views that used to be the plantations. These eventually gave way to hotel-row—huge, walled properties offering protected beaches and all manner of amenities. At last we arrived at the outskirts of Montego Bay, where we spent the morning.
We were greeted by Junice Norman, a force of nature. Articulate and passionate, she welcomed us and explained the services offered their homeless guests while enlisting our aid in harvesting eggs from their chicken coop, and planting new rows in their gardens, where my husband mastered the technique of planting with a machete. Neither guests nor staff are indolent, and all the tasks at this shelter are designed to train, or re-train, temporary residents, giving them practical skills with which to re-enter society.
As a writer, I thought about what words I might use to describe these surroundings: modest, basic, limited. Yet with the conviction that infused the musical intonations of our host, so much more became discernible: generosity, industry, progress, hope.
At the lunch hour, we were transported to the inner city to the organization's other facility: a soup kitchen that serves hot meals in the heart of town, where those in need take seats at long tables, or wait just outside its doors to receive a tray. Among the scores of people who arrived, as many were bringing food as were requesting it, and a spirit of caring overbalanced the sense of want. The organization is called Open Heart Charitable Mission.
There's a special place in heaven—and Earth—for those who dedicate themselves to managing this special place, and places like it. What minuscule assistance we were able to offer during our excursion day seems paltry in the face of hardships born by so many. Those who run the shelters and services use their heads to manage budgets, ask for funding, repurpose every element they can, and work miracles. But what they really do is see beyond present circumstances into the new possibilities they can create with and for those in their care, an endeavor which is all heart.
Discover more about Mara, her books and events, at MaraPurl.com. Mara's cruising photo by Ashlee Bratton. Join us on a future cruise at Publishing At Sea.