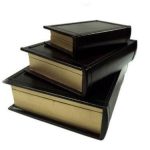 As a frequent speaker at writers' conferences, I study publishing industry trends, and do my best to track new opportunities for authors and our readers. My guest post all about the latest trends in shorter fiction is being hosted today. Here's a brief intro, followed by a link to that post. Enjoy!
In today's world of fiction writing and reading, almost all things are possible. You might beg to differ. "No one reads any more," proclaim the naysayers. But I promise you, nothing could be farther from the truth.
Not only are people reading by the thousands, hundreds of thousands, and by the millions, but they're reading both some of the longest, and some of the shortest fiction ever penned.
Newer delivery systems like e-books, blogs, and podcasts, have made it not only possible, but easy, for authors to reach their readers directly, without agents, traditional publishers or even bookstore owners dictating what form is acceptable.
When the latest and greatest iteration of my Milford-Haven saga was about to launch, I wrote my first short-fiction piece as a brief intro to my series. When Hummers Dream became my first best-seller and the rest of my books have followed, so my readers and I are on the same page. This is a great way to augment a series of novels.
The terrific fellow author and awesome blog host Anne R. Allen invited me to write a post for her marvelous blog for writers. Link right over to her blog to read the post, and be sure to let me know what you think!
Short Fiction is In! All About Novels, Novellas & Novelettes
Happy reading, happy writing!