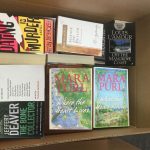 It was a day off from teaching on the Publishing at Sea Cruise, and my husband and I were looking forward to our first visit to St. Maarten—Sint Maarten, as the Dutch side of this Caribbean island is called. Rain visited the island that day, the only time the skies were clouded during our voyage. So, clad in our rain jackets, we disembarked and walked into a charming village that looked like a European enclave rain-slicked for the tourists.
High-end jewelry shops lined the walkways, and we stepped inside first, to get away from the increasingly heavy downpour, and then to marvel at the sparklers on display. Clearly, one could do serious damage to a budget in these parts, and we turned that first foray into a museum stop rather than considering it as part of a shopping spree.
At a different store, we did fall in love with Larimar—the only gem mined in the Caribbean and, though not classified as a precious stone, it will forever be precious to me, because my husband did buy me something I'll always treasure. Feeling blessed, happy, and definitely done with purchases, we were en route back to our ship, when we stopped into Pandora. Not only am I a third-generation charm braceleter, I've even designed some Pandora-style charms to coordinate with my novels, so I always take a look to see what this company may have added to their designs.
On this day, however, I found something more interesting than charms. I began chatting with a lovely young woman who worked there. When she asked about my visit to the island and I explained I was an author teaching on board, her eyes lit up. "Books," she said. "I love books!"
Having found a kindred spirit, I inquired further. Did she enjoy reading ebooks or print books? Did she have a favorite genre? She answered, and then shared an astonishing fact. "I collected one thousand and one books," she declared.
Thrilled and impressed, I asked more about her impressive personal library.
"Well, I had my 1,001 books until the hurricane, that is."
Stunned, I asked disbelievingly, "They're all gone? Every single one?"
"Yes," she said, the note of resignation unmistakable.
I paused for a moment and then said, "Could you give me your mailing address?"
She frowned in confusion.
"I can't send you a thousand books," I said. "But I can send you some."
Though she probably didn't believe what I'd said, she politely wrote down an address to which I could send a package. We left the store with her information tucked safely into my pocket. When we arrived home and unpacked, I gathered a copy each of my own books. Then my husband and I went through our own library and chose about 30 more titles we could part with, a wide selection of genres. Then a neighbor, inspired by our tale, added a few from her collection.
The box was heavy, carefully packed to maximize every square inch. It cost a hefty chunk of change to ship. But with absolutely glee, I signed the paperwork, and included a note in the box, sending my best, and requesting that she get in touch when she received the package so I knew it'd arrived safely.
A few days later, I received an international call from an unrecognized number. No, it wasn't my new friend. It was a FedEx employee saying there was a problem with the address, and asking whether I had another. I don't, I said, but I know where she works. Before I let the FedEx woman ring off, I asked whether I could tell her about the package. I relayed the story briefly and there was a moment of silence. "I'll follow this up," she said, her beautiful lilting accent as melodious as a song.
It was the following day when I received an email from my friend. She gushed with gratitude over receiving the bountiful box of books. I felt such gratitude myself, along with relief that the gift had arrived, and a certainty that the FedEx employee had gone out of her way to ensure its safe delivery.
Books have always been special to me, and they're an important part of my life. I love sharing them, helping others to write them, and writing them myself. But rarely have I had an opportunity like this to simply pay it forward.
There's a person, now, whose love of books inspired me, and who I've been able to encourage in turn with a simple gesture. She had collected books to enjoy and to share. Who knows, now, how far and wide her own sharing will reach? I know I touched her heart, and she touched mine.